HERRING ISLAND ENVIRONMENTAL SCULPTURE PARK
SUMMER PROGRAM 2001-2002
Stumped
4 - 11 October, Thurs - Sun 12 noon to 5 pm
In April of this year, Australian artists David Frazer, Camilla Gough, Mitchell McAuley, Mike Nicholls and Jay Watson spent five days camped up in the highlands near Mount Baw Baw, documenting their surroundings through the practice of 'plein air' painting. This area is composed of rugged wilderness, the Upper Yarra water catchment and logging belts, exemplifying, like Herring Island, a juxtaposition of civilisation with nature. Each artist explores this paradox in their own way, exhibiting the work made on the trip as well as woodcut prints and other work completed after their return. The sale of the catalogue and a percentage of proceeds of the sale of work will go towards the Wilderness Society.
---
Shelter
15 November - 23 December, Thurs - Sun 12 noon to 5 pm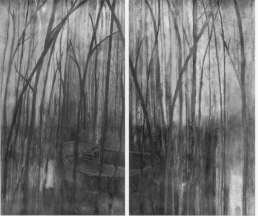 Victorian artist and winner of the inaugural Helen Lempriere National Sculpture Award, Karen Ward cites the need for shelter as universal, claiming that shelter can be a mental space where one protects and conceals the most vulnerable aspects of one's soul; a constructed place where one harbours from an alien world; an isolated space such as Herring Island which is, by its very nature, a mental and physical haven. Karen will examine the psychological and physical manifestations of 'shelter' by creating sculptures in the gallery and apt surrounds of Herring Island.
---
Investigations
3 January - 10 February, Thurs - Sun 12 noon to 5 pm
In Investigations, artists Babette Angell, Kathy Mackey and Jacqueline Mitelman invite the public to reassess the familiar in art and nature. The natural environment and unique site of Herring Island is used as a source of inspiration for the creation of photographs by Mackey and Mitelman, and collograph and lithograph prints by Angell. Recent European photographic essays completed by both photographers will contrast with the site-specific works. Workshops will be held to encourage children to look at the habitual afresh: budding photographers will use disposable cameras through which they can examine nature's intricacies. Preliminary forays into portraiture will also occur as those with cameras document printmaking experiments. Selecting from a choice of prepared linocuts by Angell which have been inspired by the landscape of Herring Island, children will be able to print images onto thin, quick-drying Chinese Joss Paper. During the last two weeks of the exhibition, workshop participants will have the opportunity for their achievements to be included in the display.
Workshop dates:
12, 19, 26 January, 2pm - 4 pm. Bookings at the Gallery or telephone 131963. Workshops are free, donations toward materials will be appreciated.
---
Sanctuary
14 February - 31 March, Thurs - Sun 12 noon to 5 pm

Consisting of two new works by New Zealander Patrick Pound and Australians Lyndell Brown/Charles Green (who have worked together as one artist since 1989), this exhibition is based on of four words: sanctuary, utopia, microcosm and island. Each of these interwoven concepts is central to environmental issues and to ideas concerning the preservation of the natural and man-made world. Herring Island, itself a potent example of a landscape comprised of natural and man-made elements, is the ideal venue for this exhibition. Four themes are explored in large transparent photographs on film and in a cabinet of curiosities spread throughout the gallery: a labyrinth of book pages, archival photographs and the ghosts of paintings, all of which will cohere, nevertheless, into four separate, iconic images of preservation, sanctuary and deep repose. Sanctuary constitutes the latest installment of a continuing project by the artists, who have worked together on five occasions in museums across Australia and New Zealand.
VIEW THIS SITE WITH A MENU BAR
Summer Program 2001-2 | About Herring Island | Getting to and What's on | Island Map | Artworks | Plants | Birds | Sir Edmund Herring | 6 seasons | Other Sculpture Parks
To join the Friends | Annual Reports | Planting Days | Our other Friends