Herring Island Environmental Sculpture Park >

Facilities






Melbourne architect Gregory Burgess designed the renovations to the existing scout hall built in 1965. Responding to a brief to design a multi purpose space, he has sensitively integrated this small beautiful gallery and its walled courtyard with the sculptural installation and native plantings. The renovations were made possible with a grant from the Sidney Myer Fund. The low wall near the gallery is one of the few examples of straw-bale building in Melbourne.
Herring Island gallery has art exhibitions during summer.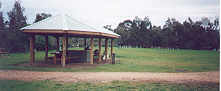 Herring Island has 2 BBQ shelters with free electric BBQs, picnic tables spread around an oval, and toilets (incl. disabled).
This area was originally dotted with mullock heaps where silt from the Yarra river dredging was dumped. The heaps were overgrown with kikuyu grass; these have now been levelled and a lawn planted. Some of the better established clumps of trees in this area were retained and further plantings of trees shrubs and grasses undertaken.